ALUMINIUM CASES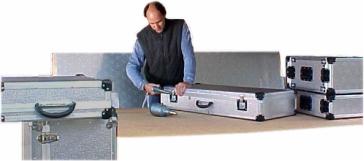 Welcome
Barry Stott flight cases are made entirely to customer specifications. They are aluminium clad
for strength and optimum protection.
My workshop is in Cape Town, South Africa and I have been producing handmade travel
cases since 1987. I can tailor-make aluminium clad cases for virtually any equipment and
any purpose. I offer a personalised service for both one-off and bulk orders
.
Please visit the products pages
where you will find a comprehensive
range of cases I have made in the
past.
You can phone or e-mail me, Barry
Stott, for more details, and for an
instant quote.
Barry Stott Cases
(Click here to view this picture in high res)